The moose hunting in our area of Saskatchewan has been remarkable for at least the past five years.
There's nothing like a trophy moose on your wall. For avid hunters all over the world, moose hunting is one of the most exciting and sought-after trips. Lawrence Bay Lodge brings you to one of the best areas in North America for moose hunting and pairs you with experienced guides so you can locate your moose and bag your prize.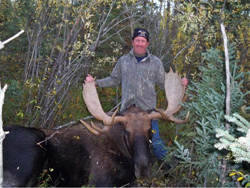 Growing up to over six feet tall at the shoulder and up to 1,500 pounds, a bull moose is one of the largest mammals on the continent, second only to the bison. These animals are also rare and can be difficult to locate, inhabiting mainly thick coniferous forests in Canada, Northern United States, Russia and parts of Europe. Their impressive antlers make them a true spectacle and an extraordinary hunting prize unlike any other. No living animal can match the moose's antlers for sheer size.
A moose mounted on your wall will complete your hunting lodge, vacation cabin, man cave, living room and many other spaces, proving you have successfully taken on the most challenging North American hunt. Reindeer Lake is home to thousands of bull moose and our guides will help you find and bring home your trophy moose.
Gear to Bring
Bring a familiar rifle, a reliable sleeping bag, warm clothes (including good boots and gloves), a white or orange outer suit and flashlight.
The average temperatures in the area range from 20 to 60 degrees Fahrenheit.
If moose hunting in Canada sounds like your idea of an exciting vacation, we would love to have you stay with us. While we can't promise everyone will bag a moose, with our success rates, you can expect plenty of opportunities. Beyond hunting and fishing, we promise a relaxing stay at Lawrence Bay Lodge.
Learn more about the lodge online and contact us to reserve your accommodations and your guided moose hunt today.