Don't just take our word for it, see what our past guests have to say about their experience at Lawrence Bay Lodge. View our reviews below and on Google or leave a review to let us know about your stay at Lawrence Bay Lodge!
Problem solving service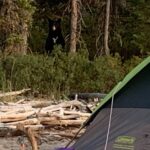 This review is a bit different. My 3 daughters and I wanted to visit an island in Reindeer Lake named after my Grandfather. The plan was to fly to Bray island via Lawrence Bay Airways, camp
4 nights on the island, fly back out and drive to our home in Regina. Too Smokey to fly in so Randy offered to boat us to the lodge where we could stay the night and boat the rest of the way to Bray Island the next morning. We took his offer, had a wonderful evening and meals and a great 2 hour boat ride up to the island with Vince Bear one of the fishing guides. We had a glorious time on the island for two days but then a bear changed our plans. With a couple of encounters we decided we had to leave. Phil and Vince to the rescue. Vince arrived at the island at 10:30pm. Loaded up his boat and then a two hour ride through the night expertly guided by Vince back to the lodge. Again, accommodations provided at a moments notice. Next day we went fishing. My daughters had a great time and we all enjoyed the great shore lunch provided by Vince and Darwin. Next day Randy took us back to Southend where we planned to camp and then head home. Campground was closed so we decided to go to La Ronge. 15 minutes into the trip – flat tire – but Marc the float plane pilot was right behind us and he took control of the situation which was more than just a simple tire change. Ended staying at his quarters overnight before finally heading home to Regina. A crazy adventure but the crew at Lawrence Bay Lodge and Airways were amazing. Thanks to Randy, Phil, Vince and Darwin and other staff our experience will be remembered for a lifetime.
Lyndon Bray
Always an adventure.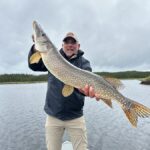 Seven trips to Lawrence Bay. They continue to exceed expectations every year. Great hosts with Mindy, Phil, and Randy. Fish ,food,and fellowship with like minded outdoorsmen. If you are looking for large pike and lake trout this is your next stop.
Archie Felder
Above and Beyond
Randy, Phil and Vince (the best guide!) took such great care of us when our plans did not pan out. When it was too Smokey to fly us from Southend to Bray Island, Randy loaded us all up in his boat and took us up to the lodge for the night. In the morning, Vince boated us the remaining 2 hours to our destination. Then the next night when we unexpectedly encountered a bear at our campsite, Vince came and got us and brought us back to the lodge in the middle of the night! The next day, Vince and Darwin took us out fishing where we caught dozens of fish and had a delicious shore lunch. Then Randy boated us back to Southend. When we got a flat tire just outside of Southend, Mark (the Lawrence Bay Airways float plane pilot) found someone in town to repair the tire and invited us to stay the night in his cabin. These people are the salt of the earth. While nothing went according to plan for us, we enjoyed every bit of it thanks to the amazing Lawrence Bay team! Thank you!!
Samantha Knaus
Best fishing trip ever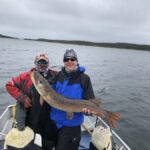 Fished with Lawrence Bay Lodge end of June for 7 days. Caught several Northerns over 40 inches plus we caught walleye, grayling and lake trout. Kept going back for Northerns because they are so aggressive. The lodge is first rate and Phil and Randy and staff took great care of us. It was a trip in planning for 30 years. Well worth wait. Our guide Izzie was great he new where the big ones hung out and no problem catching shore lunch. Hope to make it back when I can.
Richard Noel
Once in a lifetimg
6 of us just spent 4 days fishing at Lawrence Bay with Randy & Phil and I want you to know that in all of my 60+ years of fishing and doing so with numerous outfitters, this experience is by far the best that I have ever seen. Not only are the fish in abundance with catches reaching up to 100 per day per fisherman, the equipment is quality, the guides are wonderful, the lodge and hosts are 5 star. If you are thinking about spending some money to get the experience of a lifetime, this is it. One of our group was a 14 year old granddaughter and she caught more fish than grandpa!! you won't be sorry you booked with this lodge. Mick
Mick Johnson
Pete Rein
Been a few years but hands down the best Canadian fishing trip I could have dreamed of.
Pete Rein
Sean Derivan
Friendly people, knowledgable guides, big pike, great food and accommodations. Best fishing trip I've ever had and lots of fun.
Sean Derivan
Dave McCowan
My wife and I have been to Lawrence Bay Lodge twice and we both absolutely loved it. They take very good care of you (the food is awesome) and the pike fishing can't be beat. Their experienced guides know where the big fish are and are very helpful in helping you choose the perfect lure to get a big northern to bite. I can't wait for the next time I can get back.
Dave McCowan
Tyler Soulek
The accommodations are wonderful, the guides are excellent, and the fishing is undoubtedly world class. For fly fisherman bring a 9 weight or larger these big fish have hard mouths so you need a rod with some backbone to set the hook!
Tyler Soulek