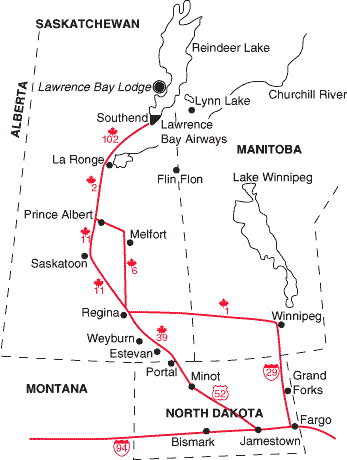 Drive north of LaRonge, Sask. on No. 102 to Southend, Sask., where we will meet you and take you 40 miles by cruiser or float plane to Lawrence Bay Lodge, for the best Northern Pike fishing in Canada, thanks to our amazing accommodations, Reindeer Lake fishing guides and the natural abundance of Reindeer Lake.
Charter Package from Denver all inclusive.
Fly by jet to Lynn Lake from any major city in U.S. We arrange for float plane from Lynn Lake to Lawrence Bay.
Daily commercial flights into Saskatoon, Sask. connecting with LaRonge.
Charter Package from Minneapolis all inclusive.
Excellent accommodations for private aircraft in Lynn Lake, Manitoba, and LaRonge, Sask. 2400 ft. sand airstrip at Southend, Sask.
Please contact us for arranging charters for large groups.
Vehicle rental available at Saskatoon or LaRonge to pickup point at Southend, Sask. Maps will be supplied for those of you wishing to drive to Southend, Sask. for pickup.
Once there, you will find the best Reindeer Lake Northern Pike fishing you've ever experienced! Not many Canadian fishing vacations can compare with our incredible lodge because of our locations and incredible Saskatchewan fishing guides.
Let us help you with your travel arrangements.