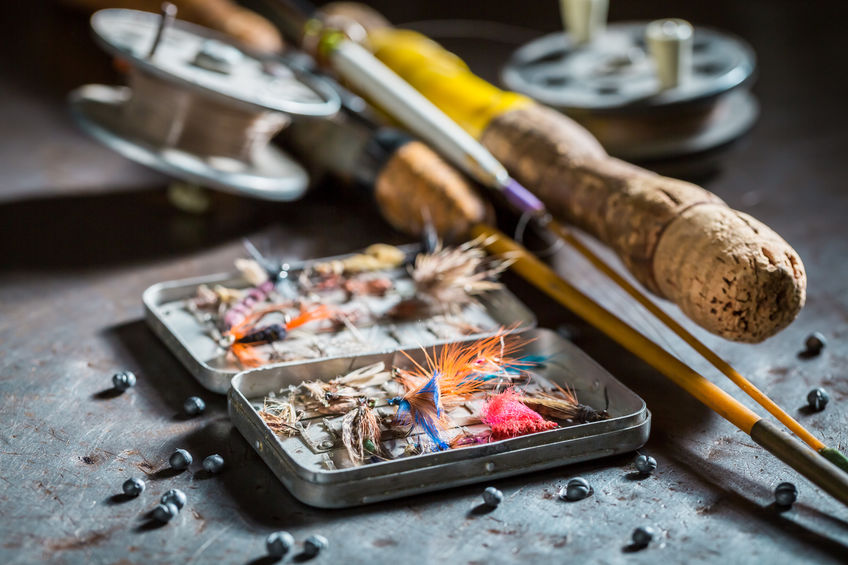 For those who have just picked up fly-fishing as a hobby or are looking to improve their success in the water, it is important to become knowledgeable about the different flies available, which flies to use based on the fish you're after, the time of year you'll be fishing, and more. Preparation is a large part of the battle, and without it, beginners can often get discouraged. But the good news is, we're here to help!
Here are a few tips to help you choose the right flies for your fly box, so you can come prepared for your next fly-fishing excursion and, more importantly leave victorious!
Get familiar with the different types of flies.
A good starting point for beginners, or even moderate fly-fishermen, is to get a deeper understanding of the different types of flies. There are several flies that are commonly used by fly-fisherman that include dry flies, streamers, nymphs, wet flies, and more.
Dry flies work best as surface flies, mimicking adult aquatic insects, as well as other food sources that can fall into the water. Streamers look and move like baitfish, leeches and crayfish, and are usually a reliable fly choice, as most fish are attracted to these. Nymphs imitate insects in the larval stage that live in the water, while wet flies imitate aquatic insects as they swim to the surface. Each of these flies has its own benefits based on your specific needs, i.e., what and where you'll be fishing.
Learn which flies are best for the fish you'll be chasing.
Whether you are fishing locally or going on a fishing trip, it is important to identify the fish you will be looking to catch, and which flies they are typically attracted to. Having the right fly for the area, in the proper size and color, will make all the difference.
A common mistake made by inexperienced fly-fisherman is not researching the flies that the local fish are attracted to. Through a little online research, or speaking with local fishermen, you will get a better idea of flies that will work effectively in that body of water.
Dig a little deeper in your research.
Things can get a little complicated when you dig deeper, as the season, temperature, time of day and streamflow can affect which fly to choose. This is known as fly fishing entomology, which you will eventually want to become familiar with as you progress. But when you're just starting out, knowing which flies the local fish typically enjoy will be enough.
Learn through trial and error.
Many times, the best way to discover the right fly is through trial and error. You won't be a master fly-fisherman your first few times in the water, so it's important to keep trying different flies until you find something that works and something you're comfortable with. As long as you have done your research, and are using flies with a high success rate in the area, you'll be well on your way to catching the fish you've always dreamed of.
There's nothing quite like having the perfect cast and catching a fish on a fly. If you're considering a weekend trip or longer getaway to work on your fly-fishing in Northern Saskatchewan, we invite you to Lawrence Bay Lodge.
Our fishing lodge is located on Reindeer Lake and is the perfect place for relaxation and once-in-a-lifetime fly-fishing. Reindeer Lake is home to many large, impressive Northern pike that can be as big as 53 inches! No matter your experience level, our fly-fishing guides will be there to answer all of your questions, assist in finding the perfect flies, and make sure you're prepared for success.
For an experience you won't soon forget, call us today at 701-262-4560 to book your trip!