For many hunters, their best friend often comes along on their hunting trips, their four legged best friend that is. Many dogs accompany hunters on their annual hunting trips and they are trained as puppies to prepare for these trips.
Here are some pointers on how to prepare your puppy to become a hunting dog:
Socialize Your Dog
Having a dog that is well socialized, starting at a young age, is an important part of preparing a dog to be a hunting dog. (It is also important for all dogs in general!) Socializing a dog is relatively easy to do. Take your dog to a dog park, for ice cream, to stores that allow dogs, on frequent walks, and to visit family or friends. If you go somewhere that your dog could also be, bring your dog with you. You want your dog as comfortable with other people and other dogs as possible. If your dog becomes familiar with unfamiliar things, hunting will not be as startling when other hunters and animals are around.
Focus on Obedience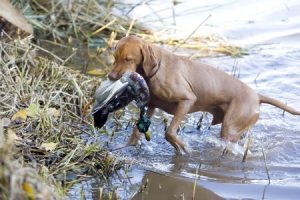 Many dogs that typically remain at home and inside are not ever enrolled in extensive obedience classes. However, if you are planning on making your puppy into a hunting dog, you should absolutely enroll them in an obedience class. Hunting dogs need to be well-trained, especially to keep them safe in a hunting setting. It is important that you can get your dog's attention no matter what while hunting and obedience classes can really help ensure this. Although group settings can help socialize your dog, it is also important to get one-one-one training with a professional dog trainer. Hunting dogs need to know how to retrieve, come, and stay without fail, among many other things.
Getting Use to Gunfire
The sound of a gun or a rifle going off can be startling for anyone. Even when you are expecting the noise, the loud crack can still catch you a bit off guard. The sound of a gun is even louder for a dog, making it vital that they understand what the sound is. For a hunting dog, the sound of gunfire needs to be associated with a reward. Gunfire means that the game has been caught and the dog can retrieve it. It is important that the dog knows to stay after the gun is fired until they are instructed to do otherwise.
Wade in the Water
Even if you are not hunting near a lake, a dog will still need to pass through creeks or bodies of water when walking in the wilderness. It is important that you expose your puppy to swimming as soon as they are old enough to safely do so. The more comfortable your dog is in the water, the less a creek will seem startling to them when they reach out. You do not want a hunting dog to be afraid of water. Water should be something they hunting dogs are comfortable with, whether is a bathtub or a babbling brook.
These are just several hints to help you train your puppy to become a successful hunting dog. For more news on hunting and all things outdoor, check out Lawrence Bay Lodge's blog.