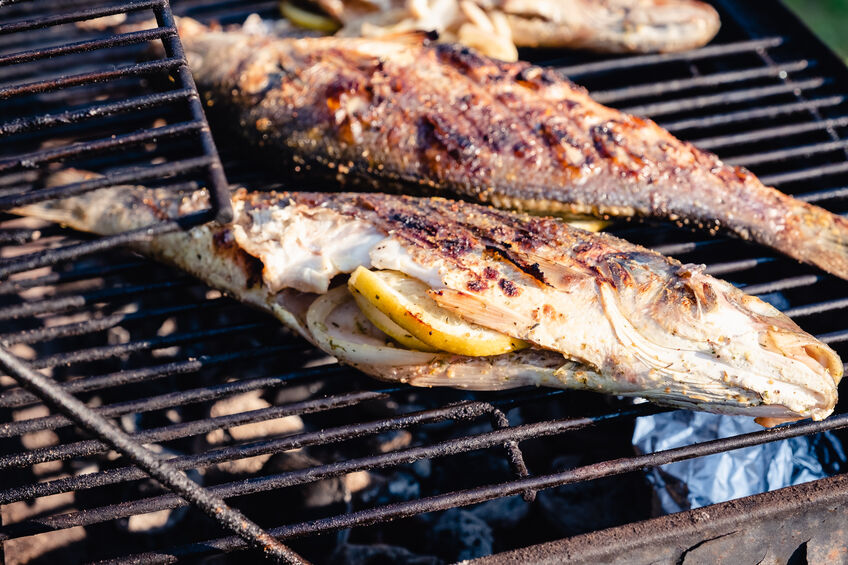 One of the greatest joys of catching a fish is being able to eat it. Everyone has their favorite recipe- whether you like it fried, grilled, or put into patties! Of course, fresh fish needs little seasoning, but if you're looking to branch out and try some new recipes, below are four recipes featuring fish you can catch right on our Reindeer Lake.
Cajun Style Northern Pike
The spicy, smoky, flavour of Cajun spice go amazing with any fish, but especially with the faint herby flavour of Northern Pike. Make your own Cajun Spice by mixing equal parts: smoked paprika, garlic powder, onion powder, dried oregano, dried thyme, cayenne, salt, and pepper. You can adjust the cayenne and paprika to fit your spice preference, too! Simply coat your cleaned and prepared pike in this spice blend and cook in your preferred way. Serve it with rice, vegetables, or eat it on its own!
Beer-Steamed Arctic Grayling
Whether you use traditional or non-alcoholic beer, the flavours of beer and fish go amazingly well. This recipe is very simple, which makes it perfect for a meal after a long day of fishing. After cleaning and prepping your Arctic Grayling, sprinkle some salt (for extra zing try seasoned salt!) on it, and place it in foil. Add a good splash (about 60 ml) of your choice of beer, close up the foil, and place on the grill. And that's it! It only takes about 15-20 minutes to cook. Try serving with some grilled potatoes, for a filling, tasty, meal!
Lemmon Pepper Lake Trout
Lemon and seafood go together like peas in a pod. Trout especially takes well to the bright vibrance of citrus! This recipe is straightforward: clean and prep your trout and rub with some olive oil. Season with salt and pepper, then place slices of lemon (try adding springs of fresh parsley, too!) on top of the trout and cook in your preferred method. When done, squeeze with more lemon! Try serving this with an arugula salad; the peppery bite of the arugula brings out the citrus and pepper of the trout!
Fried Walleye
This recipe is a little more work, but it is worth it. It breaks down to a few key components:
Seasoning: Salt, pepper, garlic and onion powder.
Flour and eggs, for dredging.
Breading: you can use breadcrumbs, crushed up crackers, or even crushed up chips!
After cleaning and prepping, season your Walleye. Coat in flour, then eggs, then your breading. Fry your fish in 190° Celsius oil, about 3 minutes per side.
And that's it! It can be served alone or put on a bun for a tasty sandwich!
With all these great recipes, it's easy to want to get started! These recipes are best with fresh caught fish, and there's no better way to fish than to fish with us at Lawrence Bay Lodge. Our Reindeer Lake has all of the above mentioned fish, plus lodging to ensure you can fish long enough to try each kind! To start booking your summer fishing trip, or if you want more information about our other services, please call us at 701-262-4560.