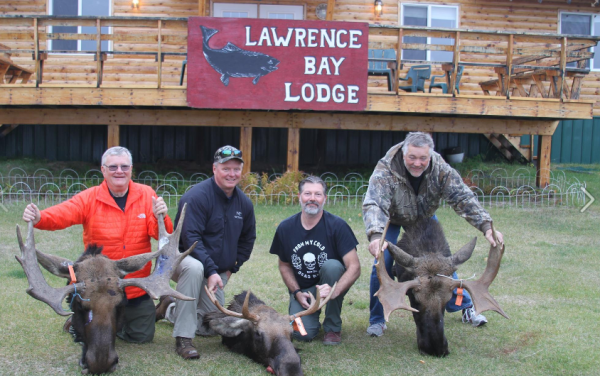 Lawrence Bay Lodge offers first-class fishing on Reindeer Lake in Saskatchewan. Besides fishing, the region is known for hunting, too. It's a great place to escape to, far from the hustle and bustle of everyday life in the city and suburbia.
Here are 10 reasons to plan a trip with Lawrence Bay Lodge:
10- We've got 18' deep transom boats with 40 horsepower Mercury motors available for you to use, and they're perfect for fishing on Reindeer Lake.
9- If you're looking to catch Lake Trout and Northern Pike, Reindeer Lake is full of them. You're also likely to catch Arctic Graylings and Walleye.
8-We've got floatplanes and can take you and your buddies to nearby lakes for variety of fishing, a day trip for walleyes is a very popular trip in June and July.
7- Who knows the area better than our native Cree fishing guides? With knowledge passed down over the generations, our guides are experts you can count on.
6- Our lodging accommodations in Saskatchewan have their own hot and cold running water, flush toilets, shower, electricity, and heating stove.
5- All of our Reindeer Lake lodging accommodations are built with natural logs and are cleaned daily by our friendly staff, so they are very cozy.
4- Our guests have caught Pike up to 53″ long and a very large number of Northern Pike from 40″-49″. For great fishing, it doesn't get any better.
3- Hunters, take note: approximately 90% of our hunters have had the opportunity to take a bull moose. This kind of success is no accident; we have quality guides, a large hunting area, access to remote lakes by floatplanes and a willingness to relocate hunters to ensure success.
2- All of the cabins at Lawrence Bay Lodge are fully modern with showers and flush toilets in every cabin. We clean the bathrooms daily for your comfort.
1- The meals served at Lawrence Bay Lodge are first class and include breakfast, lunch, and dinner. Lunch is an incredible shore lunch, served with the fish you catch that morning and it's often regarded as the best part of the trip– a time for great food, great conversation, great views…
What are you waiting for? Today is the day you should plan your getaway trip to Lawrence Bay Lodge in Northern Saskatchewan, Canada. Your experience will start with a trip to remember as you literally "fly-in" to get here. The lodge is accessible via floatplane. Then, once you settle in, you're welcome to take a leisurely walk around outside to survey the land. It's nature at its best: quiet, peaceful and serene. Many visitors remark how beautiful the area is, unspoiled by modernity. Bring your camera and take lots of pictures.
Whether you make the trip with family or friends, know this: you're going to create a lot of great life memories while at Lawrence Bay Lodge. You'll be able to tell tall tales of your fishing and hunting adventures for years to come. It's also a great place to "get away from it all," where you can take deep breaths, think about things, and refresh/recharge your mind, body and spirit. You deserve a getaway to Lawrence Bay!
To make your reservations and have some help planning your trip, email Lawrence Bay Lodge today at lblodge@stellarnet.com or call 701-262-4560.