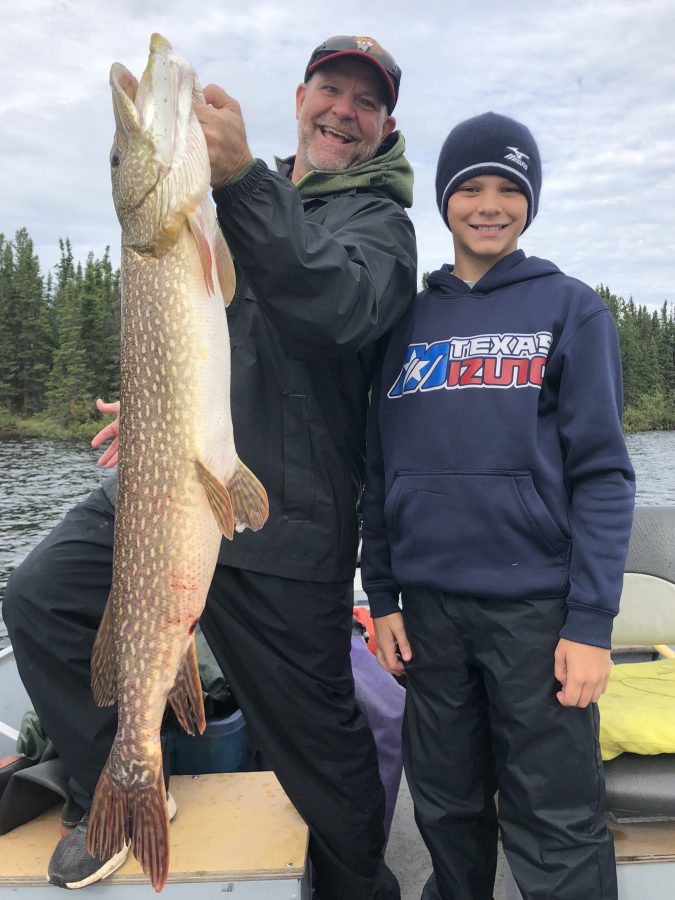 Now that Christmas is long over and we just got through Mother's Day, we're finally in the clear for a little while, right? Not so fast—don't forget about Father's Day just around the corner!
Finding the perfect gift for dad can be tough. They just don't seem to want as much stuff as mom, or anything they do want they buy for themselves before you can beat them to it. So, skip the tie this year and book a guided fishing trip they'll remember for a lifetime instead!
Give your father the break he deserves.
If you're racking your brain trying to come up with a killer gift for Father's Day, you probably have the type of dad who's always putting you first. Whether it's taking care of little things around the house or driving you to soccer practice five days a week, your dad is constantly working to give your family a healthy, happy life.
Gift him a chance to relax and enjoy some time for himself for once at a first-class fishing lodge. Tranquil waters and a cozy cabin are the ultimate combination to help him de-stress and rejuvenate.
You'll be able to spend quality time together.
The one thing almost every father wants above all else? More time to spend with their kids! As you get older, life gets busier, leaving you with fewer opportunities for father-child bonding. A unique, thrilling adventure you and your dad can experience together is a great way to revisit and strengthen your connection.
Learning something new on a guided fishing trip together (or letting them show you the ropes if they're an experienced angler) will bring you closer. Quality time spent making special memories is far more valuable than any gift you could order online or buy at the store.
Extend the typical Father's Day celebration.
Like we said, life can get pretty busy. A lot of the time, that means your Father's Day celebration is limited to one quick meal or, if you're lucky, an evening together.
A trip to a lodge gives you the chance to celebrate dad for longer or show him a little extra love later in the season after the holiday has passed. You can choose to involve the whole family in your Father's Day fishing trip, bring along several generations of fathers, or let dad cash in on some peace and quite when he really needs it.
Commemorate Father's Day this year with a trip to the best fishing spot in Saskatchewan!
Lawrence Bay Lodge offers guided fishing opportunities that can be fun for the whole family, dad by himself, or just the two of you together. Head over at any time during our season to experience premier fishing on Reindeer Lake.
Give us a call at 701-262-4560 or contact us online to reserve your spot!