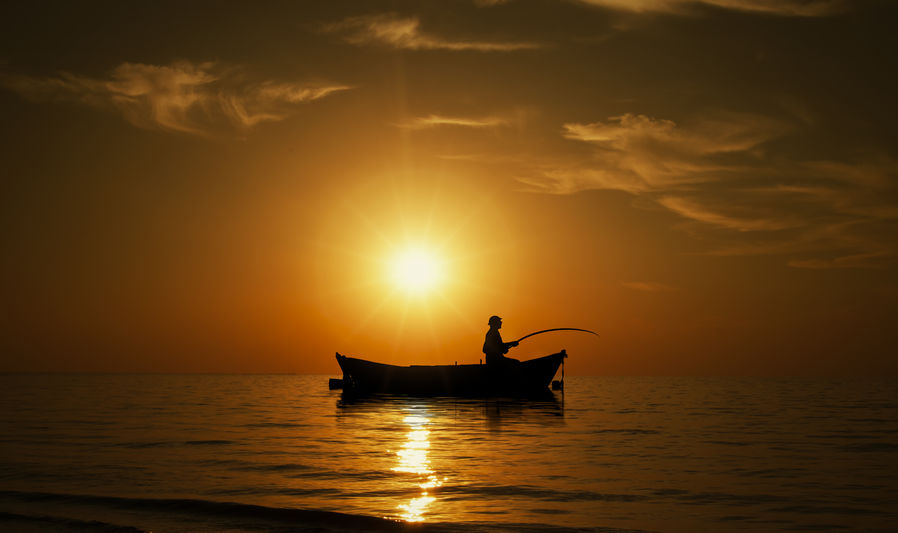 Fishing after the sun goes down puts a challenging spin on a sport that already requires quite a bit of skill to master. Reeling in a catch in the dark, when your number one sense is at a disadvantage, takes your feeling of triumph to a whole new level. Besides, any type of evening or nighttime undertaking offers a unique thrill and sense of excitement in and of itself.
As you might've guessed, evening fishing requires a different set of precautions and preparations than a regular day fishing trip. Below are the most important ground rules to follow for a safe and successful moonlit fishing adventure!
Check out your spot ahead of time.
Going into your evening fishing trip completely blind is going to be unproductive and, frankly, dangerous. Plan some time to get familiar with your fishing spot in the daylight, so you can study your surroundings and take note of potential obstacles. Even if you just head out a little early while the sun is setting, knowing what conditions to expect will help you plan your approach and know what you'll need to use for a successful haul.
Check for potential hazards in the area, such as powerlines, low-hanging trees, rocks, etc. You might even consider sketching a small map for guidance (and so you don't end up lost!).
Prepare your equipment before the sun sets.
Gather everything you'll need and get it set up on your boat before you venture out into the darkness. Attempting to get organized and prepare your equipment in the scarce evening light is just going to be a waste of time. You're more likely to make a mistake during setup or hurt yourself trying to wrangle your equipment.
Before it gets dark, rig several rods with different lures and baits you anticipate wanting to try—topwater lures, bulky jigs, or basically any lures that make a lot of commotion are ideal for fishing in the dark. You want to give fish something distinctive to target when they can't see as well. Make sure your boat deck is clear of tackle and rods too. The last thing you want is to trip and break something on you or your equipment.
Be sure to have good working light.
The right light is crucial to your safety and success on the water in the evening. Bring plenty of high-quality external light sources that will be easy to turn on and off quickly. Arm yourself with a good headlamp, boat lights, mounted flashlights, and other hands-free options to keep things illuminated while you're trying to catch or reel something in.
Consider experimenting with different colors of light too. A lot of experienced evening and night anglers find that green and white are the most effective at attracting fish. Green light especially is known for attracting bugs and microscopic plankton, which attract baitfish, which attract those trophy fish you're looking to catch.
Don't forget—safety first!
As always with any sport or activity you're trying in the dark, remember that your safety is above all else. Make sure you're taking the appropriate precautions to keep yourself and anyone you're with safe as you're fishing and navigating the water. Start by packing all your essential safety gear—lights, backup batteries, first-aid kit, life preserver, etc.—and always tell someone where and when you are going.
Take things slow when you're on the boat. It's also a good idea to stay seated as much as possible, especially when casting, reeling in, and unhooking a fish. It's easier than you might think to lose your balance while standing on a boat in the dark, particularly when you're focused on something other than your own steadiness. Moving slowly and sitting will also help prevent any injury to the fish as you're unhooking and releasing them, as it can be more difficult to do this successfully at night.
Build all the skills you need to reel in a catch at night when you book a guided fishing trip at Lawrence Bay Lodge! Our expert guides will help you hone your craft and give you the best tips for any type of fishing you want to try on your own. After your day trip and homecooked dinner at the lodge, you can even take one of our boats out for a stroll and start testing the evening fishing waters.
Contact us today to book your next adventure!