Thinking about trying to reel in a trophy catch next spring but don't want to harm any fish in the process? Luckily, many popular fishing spots—like Reindeer Lake—have a catch-and-release program that allows you to do just that!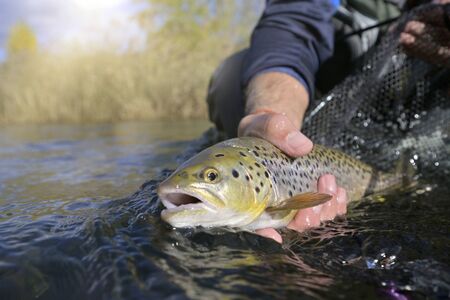 The art of catching a fish is fairly straightforward after a little practice or a guided trip on the water. The releasing aspect of the sport, however, may be a new challenge to some. Before you head out to the lake, check out the important points our expert guides have compiled to help you enjoy a satisfying catch and know how to keep it alive!
Tackle
First and foremost, you'll need to head out for your catch-and-release fishing adventure with the proper equipment for the task. Artificial lures and circle or barbless hooks are ideal, to help avoid hooking the fish too deeply. Your rod, reel, and line should be strong with a tight line to decrease struggle time.
If you're using a net to help with landing, choose one without knots and that is soft and/or rubberized. This will minimize damage and injury to the fish and increase its chances of post-release survival.
Landing the Fish
When landing your fish, the goal is to cause as little stress and injury as possible. As soon as you detect a bite, set the hook—don't play with it as you reel it in. The more you play with the fish, the more lactic acid that builds up and decreases survival chances. If you're fishing in deep waters, you should reel in slowly to help the fish adjust to the changes in pressure as it's pulled to the surface.
If you can, leave the fish in the water to avoid letting it thrash around and cause damage. If you do land, use a landing net to help cushion.
Handling the Catch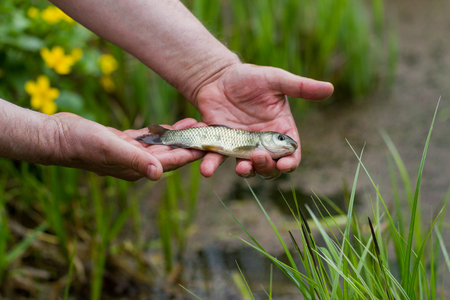 The most important thing to remember when handling your catch is not to over-handle it. Again, try to keep the fish in the water as much as possible. When you do handle your catch, make sure your hands are wet to help keep its protective outer layer of mucus/slime intact.
Don't put your fingers in the gills of the fish, or touch the eyes, and do your best to avoid squeezing. As you're holding it, make sure you're providing proper support.
Removing the Hook
The unhooking of your fish should be done as quickly and safely as possible. Try to keep your catch as wet and calm as you can to maximize chances of survival. If you need to pull it from the water to get a better grip to remove the hook, do not pull by the line—this will embed the hook deeper.
The best tools for unhooking your fish are going to be needle-nosed pliers, hemostats, or jaw pliers for deep set hooks. If your catch is hooked too deep, do not remove it and chance causing further damage to the gills or internal organs. Instead, just snip the line as close to the mouth as possible.
Reviving the Catch
If you want to snap a picture with your fish, do it quickly and leave the fish partially submerged if possible. Once you've documented your trophy catch, return it to the water as soon as possible, but stay with it until it recovers.
Once the fish can breathe normally again and swim freely from your hands on its own, you may release it. Make sure you send it with the water's current.
Catch-and-release fishing is an excellent way to enjoy the sport while helping to maintain the fish population and allowing others the chance at a trophy catch! The experienced guides at Lawrence Bay Lodge are trained in the best release methods and will handle all of the fish for you if you elect to take a guided trip.
For a fun vacation that combines the thrills of fishing with the comforts of a full-service lodge, call us at 701-262-4560 to book your stay for our next season before it fills up! We look forward to seeing what you can reel in!