After all the time and energy spent honing your fishing skills and waiting out in the hot sun for something to bite, you're going to want to walk away from your fishing trip with something to commemorate your victory. Whether it's your first success, an impressive trophy-sized fish, or just a family excursion you never want to forget, snapping a photo when you catch a fish is a beloved tradition for anglers of all kind.
Fortunately, you don't have to be a professional photographer to get a fishing picture that's worthy of your wall at home. Check out these tips to help you take photos of you and your fish that you'll want to show off for years to come!
1) Handle the fish carefully.
No matter how perfect you want your photo to be, the wellbeing of your catch needs to come before anything else. It is imperative that you handle the fish safely and get your picture quickly to maximize its chances of survival upon release.
If you can keep the fish in the water, this is your best option. But if you prefer to stay dry or get your shot on the boat, be careful not to touch the gills, squeeze the body too hard, or cover the fins. Hold the fish gently but firmly, gripping from the bottom. As soon as you've got your photo, release the fish.
2) Position the sun behind the camera.
Shooting your camera directly at the sun will cast a shadow over the entire photo, turning you and your fish into a silhouette. Make sure your photographer (or your camera if you're taking a selfie) is positioned in front of the sun, so that it shines on you and your fish.
At midday, when the sun is the highest in the sky and most direct, you may want to use a flash to help minimize shadows. The flash can also be useful if you're wearing a fishing hat, to help combat the shadows it might cast on your face.
3) Get a little bit of background in your shot too.
While you don't want the scenery to be the focus, capturing a few background aspects will help your fishing photo tell a better story. If you step back and include a little context, you'll be able to look back at this picture and remember where you were, what the weather was like, who you were with that day, and the experience in its entirety.
You do, however, want to get rid of any clutter that doesn't add to the story your photo is trying to tell. Position your shot so that random objects, such as a backpack, water bottle, fishing net, the bottom of the boat, etc. don't take away from you, your catch, or the background worth remembering.
4) Don't be afraid to experiment.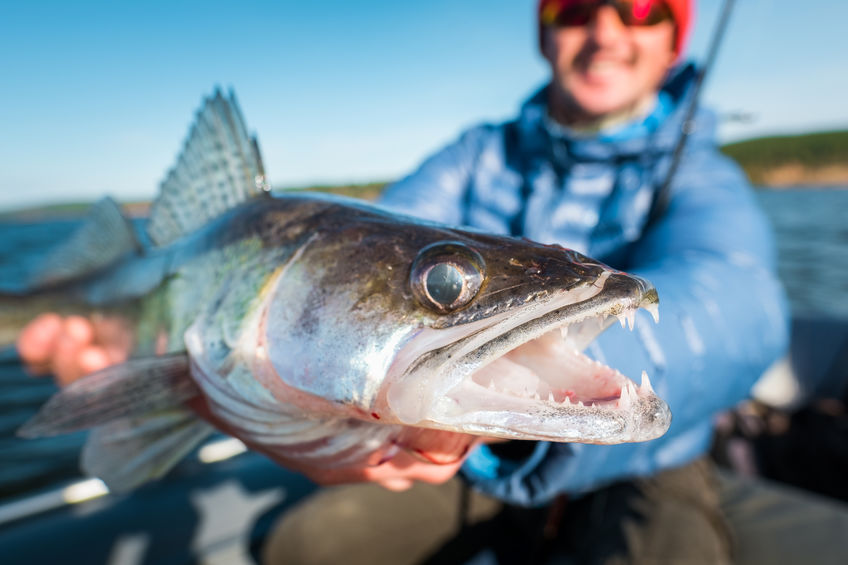 As reliable as the "grip-and-grin" shot of you holding your fish is, don't be afraid to branch out and try something a little more unique after the first catch or two! Shooting from low in the water or on higher ground, for example, can produce a more artsy photo.
Or, if you're working with a quality camera (and not just a smartphone) try using a macro lens to zoom in on details of the fish. You can also have pictures taken of other aspects of your experience, such as you reeling in the fish, preparing the tackle box, or releasing the fish back into the water.
5) Have your camera at the ready.
As you're getting yourself situated when you first go out on the water, make sure your camera is easily accessible. Some of the best shots are ones you need to get at a moment's notice, which means you won't have time to dig through your bag to find it!
You should also take your camera out and let it acclimate to the environment. When you first pull it out from your bag into the hot humid air, for example, condensation will likely form on the lens and you'll have to wait for it to dry (so you don't blur it). Sudden temperature changes can also slow your camera down, so you need to allow time for it to adapt to the air. Just make sure wherever you place it for easy access, it's somewhere it will remain dry.
Lawrence Bay Lodge's location on Reindeer Lake gives our guests access to some of the biggest trophy fish in Saskatchewan—and some unforgettable photo ops to go with them! Check out our gallery to see our fishing opportunities in action and get some ideas for how to pose with your next catch. Then, pack your camera and head out to our lodge for your own once-in-a-lifetime fishing experience.
Give us a call at 701-262-4560 to book your guided Saskatchewan fishing trip today!