Sometimes it's hard to set aside time to spend together as a family. Kids are busy with school, sports, and clubs, and parents are busy with work, taking care of the house, and driving the kids to their activities. Life moves fast, so it's important to put in the time and effort to bond as a family.
As spring winds down and summer vacation gets started, consider planning a fun fishing getaway for everyone to enjoy! A fishing trip is the perfect way to bring the family together and create joyful and meaningful memories—you may even end up making it an annual tradition.
Check out these tips we've come up with to help you plan an unforgettable family sabbatical. Once you know what you need to do to prepare, head on over to our website to schedule a trip and book one of our modern, comfortable cabins for the family to retreat to after an amazing day out on the water!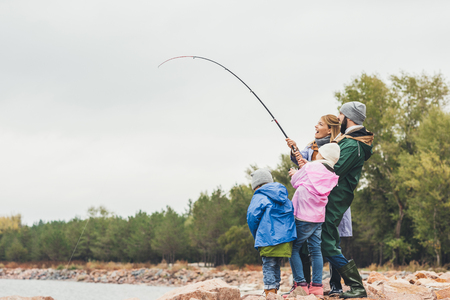 Choose a species to target.
If you've never planned a fishing trip, you might assume it's safe to just book a place to stay near the lake and then wing it out on the water. It's important, however, to know which fish you and your family want to try to catch ahead of time—so you can be sure to embark on your trip fully prepared with what you need to make it go smoothly.
Discuss with your family which species you'd like to go for. This will help you narrow down where to stay and book your outings.
If you decide an experience Northern Pike fishing, for example, will be the most fun and well-suited for your family, you'll want to secure enough dardevles and jerk bait to reel in some solid catches—and book a stay at Reindeer Lake in Saskatchewan!
Pack accordingly.
A family fishing trip will obviously call for a couple of good reels and the right rods for the fish you want to pursue! If you're bringing small children, consider starting them out with a child's rod so they're working with something they can easily manage and feel good about.
Since you've already decided what you want to catch, you'll know the right bait to bring, so be sure to pack it or know where to get it near your lodging accommodations. You'll want to pack a cooler with some kid-friendly snacks and beverages—with plenty of fresh water for sunny afternoons on the lake.
Come prepared with sunscreen and rain gear, as the weather can change in the blink of an eye. A first-aid kit might not be a bad idea either, and of course you'll want to bring the camera to capture all the exciting, family moments you're bound to share!
Plan other activities.
Whether you're making a whole weekend out of it or opting for a guided day trip planned by an expert, add to the fun of a family fishing trip with a few other planned activities. The family celebration and connection doesn't have to stop once you pack up the reels and head back to land!
If your children are older, consider a hunting trip for exciting game like bull moose or bear. Spend some time just relaxing out on the water on the boat or back at the lodge with other adventuring families. Check out a few local nature trails or bring your swimsuits and jump in the water to play around if you get tired of or need a break from waiting for a catch. Hit up some local dining options or the restaurant at your lodge. You can even make dinner a fun family activity by cooking up that day's catch together back at the cabin!
A family fishing trip is an exciting outdoor vacation that makes it easy to pile other lively summer activities onto the agenda. Spend some designated time bonding while also getting your daily dose of Vitamin D!
Have fun!
You don't want to end up on one of those stereotypical family vacations where the kids are miserable, and the parents threaten to turn the car around every ten minutes. Make fun and laughter the top priority for your group getaway!
Catching fish is great but look at it as a bonus that will just add to the pleasure of spending time together as a family. A family fishing trip should be about enjoying the water and the outdoors together and appreciating the opportunity to do so.
The best way to ensure your family vacation is a good time for everyone is to let the experts plan your fishing trip. Contact Lawrence Bay Lodge to schedule a fishing trip with us today, so you don't miss out on making family memories that last a lifetime!